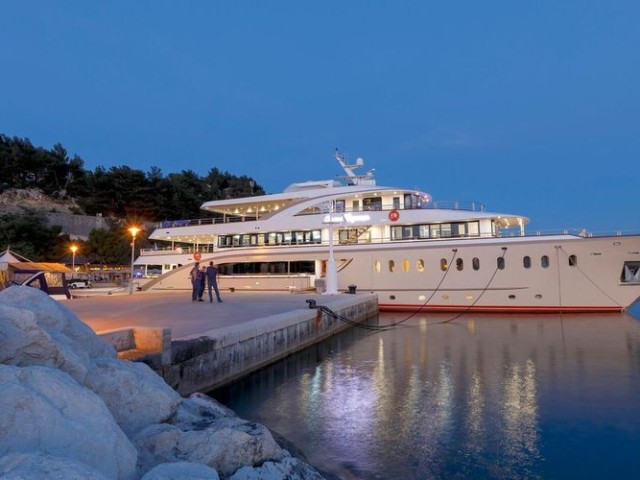 Description
Queen Eleganza 49 meter motor yacht for charter with 18 cabins for 36 guests
Introducing the epitome of luxury and maritime elegance, the mega yacht Queen Eleganza stands as a testament to opulence and sophistication. Crafted with meticulous attention to detail, this 49-meter marvel was born in 2018 at the esteemed Radez Shipyard, where craftsmanship meets innovation to create a vessel that redefines the concept of indulgence on the open seas.
Boasting an impressive capacity, Queen Eleganza can accommodate a total of 36 fortunate guests across its 18 exquisitely appointed cabins. Among these are 7 lavish double cabins and 11 charming twin cabins, each meticulously designed to offer the highest levels of comfort and relaxation. With every inch of the interior thoughtfully curated, guests are enveloped in an atmosphere of refined luxury from the moment they step on board.
Moored in the stunning coastal haven of Croatia, Queen Eleganza offers an exclusive opportunity for those seeking an unforgettable escape. Chartering this vessel provides a gateway to exploring the enchanting Adriatic waters and beyond, allowing guests to discover hidden gems and secluded coves in ultimate style.
Beyond its lavish accommodations, Queen Eleganza presents an extensive array of water toys, inviting adventurous spirits to embrace the sea. But the indulgence doesn't stop there. A meticulously crafted music system on the deck area, accompanied by a skilled DJ, ensures that every moment on board is accompanied by the perfect soundtrack, setting the tone for memorable gatherings and lively celebrations.
Ascending to the Sun Deck, guests are greeted by an outdoor haven of relaxation and entertainment. A fully stocked bar beckons, while an expansive entertainment platform sets the stage for unforgettable gatherings. Sun lounges thoughtfully placed on both the back and front of the deck provide panoramic views of the surrounding beauty, immersing guests in the captivating scenery.
The Sun Deck is also home to an outdoor kitchen equipped with a state-of-the-art BBQ, inviting culinary enthusiasts to indulge in al fresco dining experiences that blend gourmet fare with breathtaking vistas. With a cruising speed of approximately 12 knots, Queen Eleganza ensures that every journey is both swift and comfortable, allowing guests to revel in the journey itself.
Behind every extraordinary experience, a dedicated crew plays an integral role, and Queen Eleganza is no exception. With a crew of 10 members, each committed to providing impeccable service, guests can expect nothing less than excellence throughout their voyage. From personalized attention to seamless operations, the crew's expertise guarantees a journey that transcends expectations.
In the realm of luxury yachting, the Queen Eleganza reigns supreme, offering a world of indulgence, adventure, and elegance on the high seas. A masterful blend of design, technology, and service, this magnificent vessel promises an experience that lingers in the hearts and minds of all those fortunate enough to step aboard.
Water Toys
Tender 5m with 60hp
4 paddle boards
2 Yamaha Sea scooter ( similar to sea bob )
2 Kayaks
Inflatable toys
Water skis
Wake board
2 fishing rods
20 x Snorkeling equipment
Board games
Jet-ski upon request (extra cost)
QUEEN ELEGANZA | Motor yacht
2018 | Radez Shipyard
length
49,00 m
beam
8,75 m
draft
2,50 m
speed
Cruising 12.00 knots / Max 14.00 knots
crew
10
cabins
7 double cabins, 11 twin cabins
guests
36
stabilizers
Yes
high season
79.000 €
price from (per week)
low season
79.000 €
price from (per week)
pax day
36
+ pax night
36