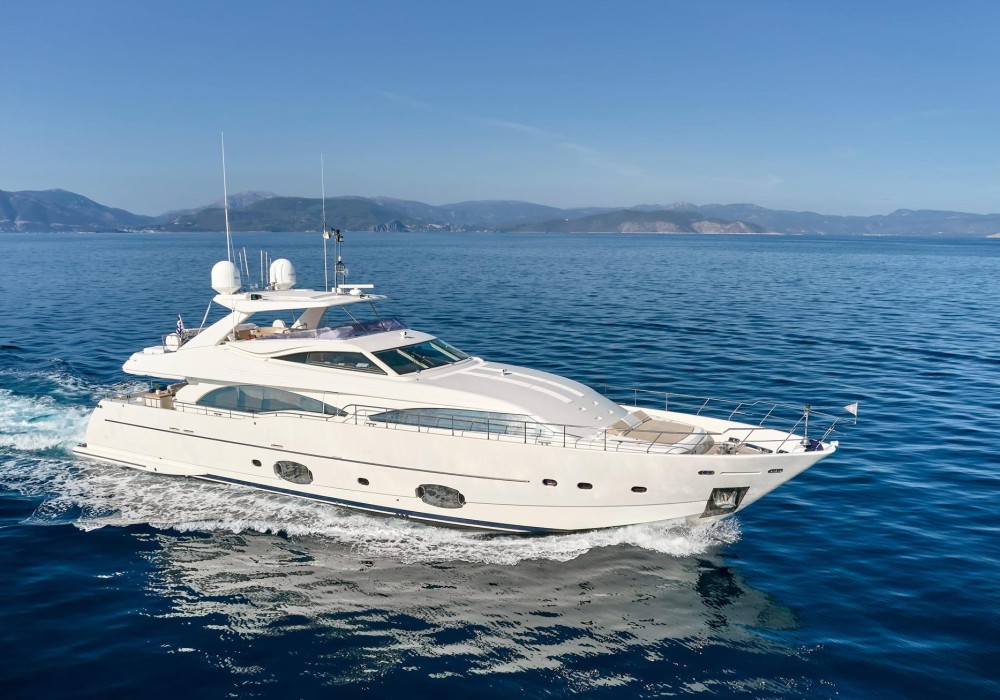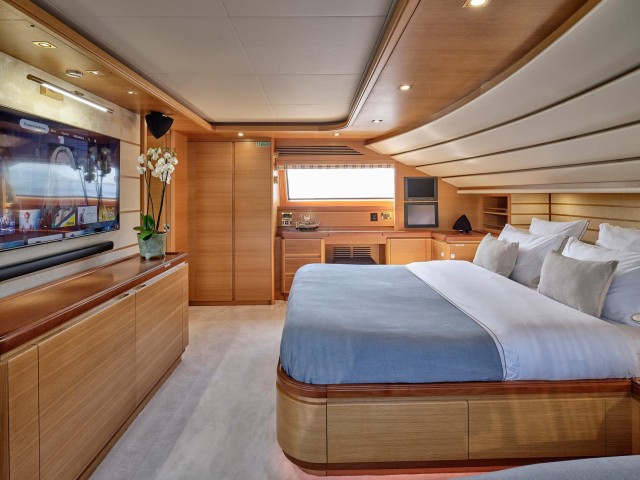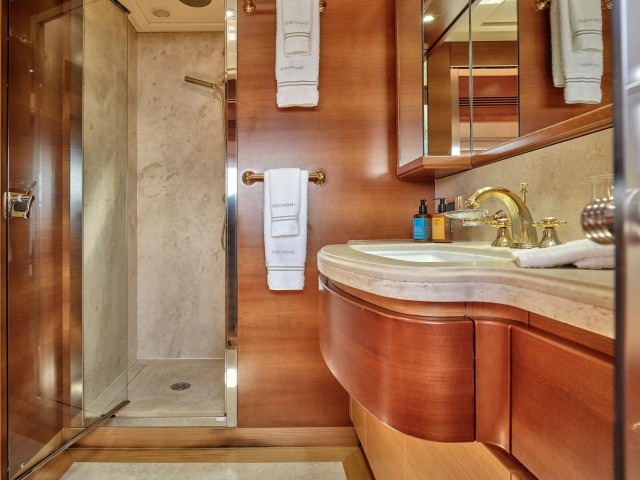 Description
Pareakki 30 meter motor yacht for charter with 5 cabins for 10 guests
Introducing Pareakki: a 30-meter motor yacht that embodies luxury, elegance, and adventure on the high seas. Crafted by the renowned Italian shipyard Ferretti in 2006, this magnificent vessel underwent a recent refit in 2021 to ensure its impeccable state. With its impeccable design by Studio Zuccon International, Pareakki is a testament to nautical artistry and engineering excellence.
Accommodating up to 10 guests in supreme comfort, Pareakki boasts 3 double cabins and 2 twin cabins, each meticulously designed to provide a serene haven for those on board. Beyond its lavish sleeping quarters, the yacht is equipped with an array of amenities to ensure an unforgettable voyage. For relaxation and exploration, guests have access to a diverse collection of water toys, including a 4.30m Nouvrania tender powered by a 70hp Yamaha 4-stroke outboard, a thrilling Yamaha Seadoo Spark ΤRIXX jetski, two Seabob F7s for underwater adventure, two SUPs for a tranquil paddle, a 2-seater kayak for coastal exploration, and even kneeboards and wakeboards for the more adventurous souls.
As Pareakki sets anchor, its stabilizers ensure a smooth and steady experience, whether enjoying the water toys or simply savouring the breathtaking views. The water toys aren't the only highlight of this vessel – its large multi-functional sundeck offers ample space for both lounging and dining. A sliding hardtop provides both shade and shelter, whether you're anchored in a tranquil bay or cruising along the open ocean.
Inside, the yacht's interior is bathed in natural light, thanks to the inclusion of large hull windows that connect guests with the surrounding seascape. The bright and welcoming interiors create an inviting atmosphere, seamlessly merging the elegance of luxury living with the tranquillity of life at sea.
Pareakki's grandeur extends beyond its decks and cabins to include a large swimming platform that allows easy access to the water for swimming, snorkelling, or other water-based activities. This thoughtful addition enhances the connection between guests and the open ocean, allowing them to immerse themselves fully in the marine wonderland.
To ensure an impeccable voyage, Pareakki is staffed by a skilled and attentive crew of 5, dedicated to providing top-tier service and catering to the needs of the guests. Whether it's a gourmet meal prepared by the onboard chef or assistance with water sports activities, the crew is there to make every moment aboard the Pareakki an unforgettable experience.
In conclusion, motor yacht Pareakki represents the epitome of maritime luxury and exploration. From its sleek design to its well-appointed cabins, from its array of water toys to its dedicated crew, every detail is meticulously crafted to provide an unparalleled journey on the seas. Whether you're seeking relaxation, adventure, or a bit of both, Pareakki is ready to transport you to a world of opulence and wonder.
Water Toys
1 x 4.30m Nouvrania tender with 70hp Yamaha 4-stroke outboard
1 x Jetski Yamaha Seadoo Spark ΤRIXX
2 x Seabob F7
2 x SUP
1 x Kayak 2-seater
1 x Kneeboard
1 x Wakeboard
1 x Adult waterski
Snorkelling equipment
PAREAKKI | Motor yacht
2006 (Refit 2021) | Ferretti
length
29,70 m
beam
7,08 m
draft
2,47 m
speed
Cruising 19.00 knots / Max 24.00 knots
crew
5
cabins
5 ( 3 double, 2 twin )
guests
10
stabilizers
Yes
high season
68.000 €
price from (per week)
low season
55.000 €
price from (per week)
pax day
12
+ pax night
10